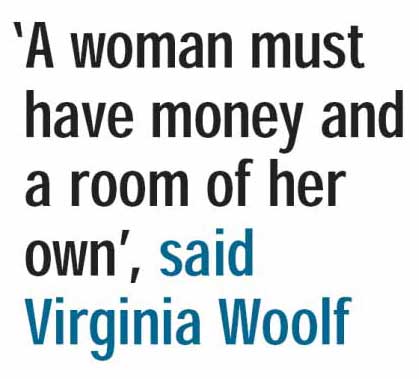 I was thinking about this quote today, as I packed up the last of my stuff in my studio space and moved it back over to my apartment. Having a studio for awhile was great, but given my recent job troubles, it was a luxury that I could no longer afford. I'm a little bit bummed that I don't have my own little space to escape to anymore, where I can leave out all my sewing projects and tackle whatever one I want to at my leisure, but I guess there's something to be said for getting to do my sewing at home too, especially in the winter when I'm largely hermiting about here, cuddled in blankies. So I'll just have to create my room of my own inside another room for now, and dream of having my own space again someday.
But I think what I need more than anything is a goal or aspiration to work towards, and I think having all my supplies accessible (well once I organize them) should be pretty inspiring, or at least, a change of pace for me. Given that a move is being contemplated for September, I am going to need to reduce a lot of this fabric anyways, so here are some new goals for myself that I dreamed up today that I'll hopefully be able to stick to:
1) Sew for at least one hour five days a week
2) Finish at least one project fully every week (which can include finishing up old projects)
3) Catch up on some of the tutorials in Claire from
Polka Dot Pretties
Learn to Sew series! Learning to sew projects are always the best for stash busting!
I could probably go on, but I think I'll leave it at that for now and see how I do!
Do any of you sew in a small space? I'd love to hear about any ideas or posts you've done about organizing all your sewing stuff!
♥ Craftzilla