Just popping in here to share a few exciting things that are going on!
Guest Post Today on Living Apockylypse- Sweet Potato Sushi DIY
Today I'm guest posting as a part of Kelly from
Living Apockylypse
's Blog party in celebration of her one year blogging anniversary! Check out my
Sushi DIY
as well as some other awesome DIYs, giveaways and amazing posts today on
her blog
!
Exciting Crafty Announcement
Also of exciting note, is the
fun and fabulous announcement
that Kelly also made as a part of her blog party- her, myself and Margot from Newfoundlander at Heart have banded together and come up with a new crafty community project, called the ApoCALypse (CAL for Craft-a-long) where we connect crafters in working on crafty projects together. Our first set of projects will be knitting related, but there will be other projects of a crafty nature in the future. For more information on how to get involved, check out the
ApoCALypse blog
,
Flickr Group
or join the
ApoCALypse group on Ravelry
.
Blog Positivity Week on After Nine to Five's Blog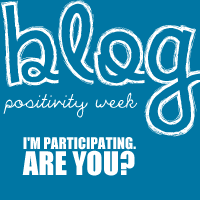 And last but not least, Ashley from After Nine to Five is spending next week (March 19 to 25th) on her blog having a
Blog Positivity Week
to celebrate the positive aspects of the blogging community and for all of us to celebrate all the good parts that blogging brings to our lives. If you want to get involved, check out the
information page here
to sign up and get involved!
I hope all of you are having an awesome St Patrick's Day!