I've been trying to think of some ways to improve my blog, in terms of the content, and also making it pretty and more interesting.
The Eternal struggle for time:
Let's face it, I always have time management issues, and being in university right now does not help that, nor does it stop me from constantly taking on more than I can chew at times. I'm hoping to try to figure out my time a bit better to be able to sit down and write more posts at a time, rather than rushing each day to try to write them on my off time. I'm hoping Ashley's amazing new time management ebook
Stopping the Clock- Turn Wasted Time into Productive Time
(which I won in a recent giveaway) will help to give me a few answers on this! It's chock full of great tips and advice that I'll be trying to use in my day to day life, as well as some fun and useful templates for to do lists, goal lists and time trackers.
My sewing and crafting has of course also been lacking of late, which really is making me a bit depressed. I actually mashed my knitting into my giant backpack of school today, and knitting a bit while reading stuff on the computer on breaks and on the bus made me feel a bit more normal today, which is always good. Clearly I need more portable crafts, without having to resort to getting one of these babies: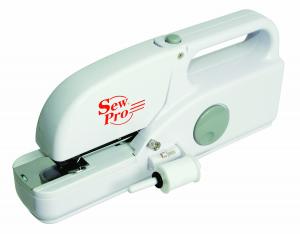 I may have totally bought one of the 80's versions of these at a garage sale, but I can guarantee you that it was just not as good as the real thing!
Seriously though, any other time management strategies /magic spells or timeturners you'd like to share, I'd be all ears!
While I think of it--Some quick bloggy updates I have done
Updated my list of my
appearances on the internet
- guest posts, giveaways and posts I've been featured in. There will be more to come of course, but it's fun to have them all in one place I think!
I made some updates to my
About Me
page in the last few weeks, what do you think? Any questions you would like answered?
♥ Craftzilla