I used to read A LOT. The fact that I read all the time as a kid and into highschool meant that choosing to do an English degree when I was first at university an easy thing. Read lots of books and get to critically discuss them with others? Yes please! But since getting out of university, I've found it harder to actually sit down with a book for some reason. I'm not sure when my greatest pasttime became something I had to schedule in, but between everything else going on, and moving to a smaller city where I no longer spent hours a day commuting, I just haven't read as much as I used to, and I was really missing it. Not to mention I was (am still am) really trying to work my way through reading a lot of books that I have in my home library that I've never read and not always succeeding without a goal in mind. That was part of why I made my goal to read more books as a part of my
30 before 30 list
(# )
What's changed lately has been that I rented a few of my textbooks from an online site, for WAY less than buying the hardcopies and decided that in order to read them (and because I'd saved so much money) that I'd TREAT MA SELF (reference -
please watch the hilarity of this scene from Parks and Rec
)and buy a touchscreen Kobo!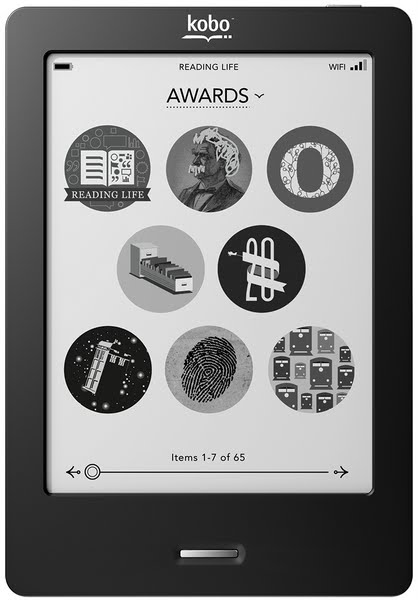 Yup, I'm in love! I'm reading until late at night again, and have read 5 or 6 books since getting it, as well as got an awesome deal on the new
Jeffrey Eugenides book, the Marriage Plot
. I'm even doing a fun bookclub on
Goodreads
with Liesi from
Too Crewel
, because I'm just that excited about reading again. The touch screen is awesome and responsive, it's easy to save your place and mark up the text if you want, and there are tongs of free classics and other books available on the
Kobo site
. Finally I've been making a bit of progress working my way through the
BBC Big Reads list
and I'm feeling much happier for it! Books I'm currently reading include "The Return of Sherlock Holmes" and soon the Marriage Plot, once I find the darn cable for my Kobo to sync it (downside, everything uses cables which are easily lost in my apartment) I am in fact a little bit sad that another awesome new Kobo, the
Kobo Vox ereader
is already coming out -colour, touch screen and apps, oh my! This sounds awesome already.
But I'm just going to settle for the awesome Kobo I already have and go and read some more books.
Do you use an ereader or do you prefer reading a real book?
♥ Craftzilla
Note: This is not a sponsored post, I just love and use this product, a lot!